Opposition Senator Peter Bunting is questioning the "moral authority" of the Jamaican Government to co-lead the Caribbean Community's (Caricom) efforts in solving the crisis unfolding in Haiti.
Responding to a statement by Foreign Affairs Minister Kamina Johnson Smith on the matter during today's sitting of the Upper House, Bunting said Jamaica was a part of a five-country group that divided Caricom and undermined the Organization of American States (OAS) in meeting with former US President Donald Trump in March last year.
Johnson Smith told the Senate that Caricom countries, including Jamaica, have been working through the OAS and the United Nations, to ensure that attention remains on the electoral crisis in Haiti, that the country remains a part of deliberations and that there is no outside imposition following the assassination of President Jovenel Moïse on Wednesday.
Johnson Smith said in this regard, the leaders of the region continue their oversight of Caricom's attention and response, with due regard to the sovereignty of Haiti and the principles on which Caricom is built.
"It is appreciated that the circumstances in our sister island, its systems and institutions which have been the subject of international assistance, continue to require support," she said.
Bunting argued that in meeting with Trump, Jamaica, St Lucia, Haiti, The Bahamas, and Dominica divided Caricom and undermined the OAS.
"The OAS was described as feckless. In light of Jamaica's previous role in doing the bidding of the Trump Administration, does it have the moral authority to lead any process or to co-lead any process in Caricom to solve the current crisis in Haiti," he said.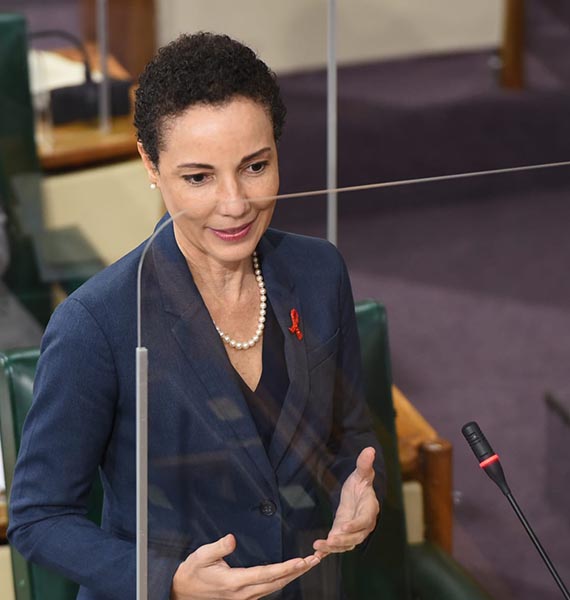 But Johnson Smith, in response, said the Opposition senator was merely seeking to grab headlines with his question.
"The question of moral authority, I find the tone and the content of your question objectionable, quite frankly. Jamaica was part of a meeting with the former [US] president along with other members of the Caribbean Community. Our policy has always been to engage with the United States across Administrations.
"They are home to our largest Diaspora. They are our largest trading partner and to disengage at any point has never been in our interest. So as to whether our presence in a meeting at which President Moïse was also present would undermine our moral authority to continue to have discussions with Haiti or other stakeholders to me just sort of smacks of headline seeking," said Johnson Smith.