Valiant proves that he is not only a juggernaut on YouTube but is also a force among subscriber-based platforms after becoming the most streamed artiste from Jamaica on Apple Music.
Valiant, who has habitually commanded top trending on YouTube is now currently the number one streamed artiste on Apple Music on the island with his most recent single, 'Expensive'.
The single which was released last week also occupies the #1 spot on YouTube, replacing his own song 'Rasta' which had also topped the streaming platform in Jamaica.
Not only does the "Dunce Cheque" artiste have the top song currently, he also has the most streamed songs on the platform.
Valiant has logged 12 of the top 20 most listened to songs on the platform and according to Apple Music, he currently occupies 7 of the top 10 most streamed songs on the platform.
The stream ranking is as follows; 'Expensive'-#1, 'Glock 40′ – #3, 'Rasta' -#4, 'North Carolina'-#5, 'Dunce Cheque'-#7 'Narcissistic'-#8, and 'Speed Off' -#10.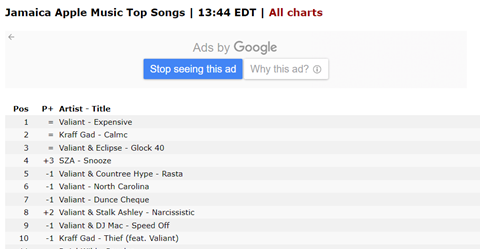 Overall, Valiant has registered 14 songs in the top 100 most streamed songs out of Jamaica on the platform.