British Pop star Dua Lipa is stress free in Jamaica soaking up the island vibe, as she shared details about her recent getaway to the Caribbean Island.
The singer, who took a small pause from her hectic recording and performing schedule to catch some rays and waves under the Jamaican shades, documented her exploration of the island, its culture and people while noting to-go spots during her trip for her publication- 'Service 95′.
'Service 95', which is a weekly newsletter founded by Lipa in 2022, is "a global style, arts, and society venture, that's inspired by her love of creating personal and extensive lists that recommended under-the-radar places, products, issues, and people" according it's the website.
In the most recent newsletter; Issue 59- dubbed Island Life, the 'One kiss' hitmaker, highlights her stops at world renowned Jamaican stops such; as Jakes Treasure Beach Hotel; Kingston Dub Club; Boston Jerk Centre; Scotchies; Bob Marley Museum.
The 'Levitating' singer also shared a few snaps of some of her moments in Jam-Dung on her Instagram.
"Calm and Stress freee" she describes her recent stay.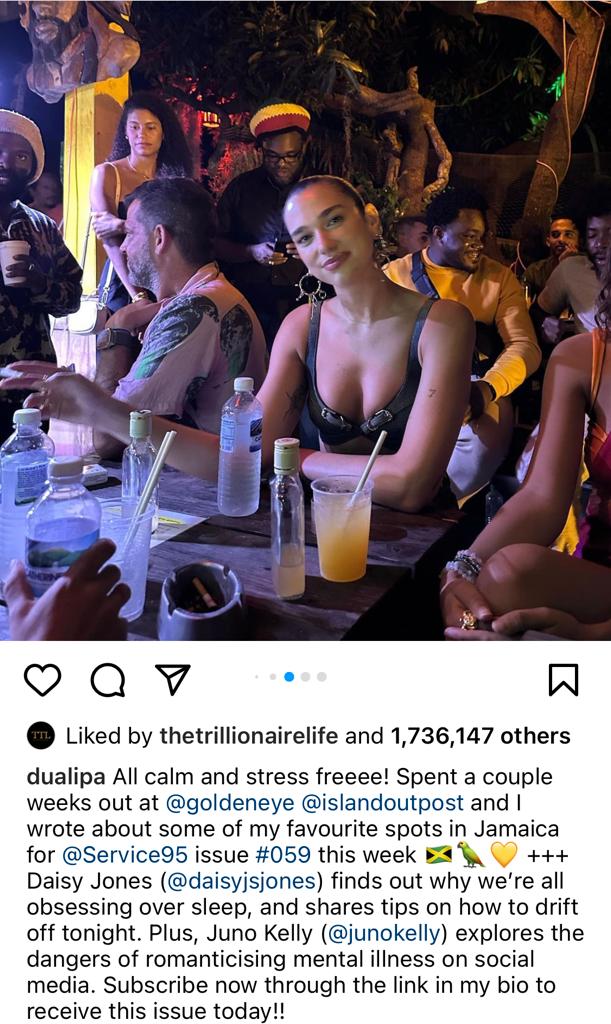 The trip is not her only connection to the culture as the pop star had collaborated with Dancehall juggernaut Sean Paul on his global smash, 'No Lie'.
The track has racked up more than 1 billion streams since its release in 2017.